Hello everyone,
So... this happened.
The Winner's Curse was my favorite read of 2013 and I'm so happy I don't have to wait any longer to find out what's next for Arin and Kestrel in The Winner's Crime. EEEeeeeppp!!
**Deep breath** Okay, before I get into all the awesome new books I acquired this week, here are our posts since our last StS post.
Gorgeous cover!
Makes you want to travel to Machu Picchu.
Better than the first book in the series!
You need this book in your life. Must-read for all contemporary middle grade lovers.
Because JLA books are awesome and I'm so excited for this one.
Michelle
: I'm currently reading
Come Dancing
by Leslie Wells
Leslie
(who is in a blogging hiatus until December) is reading
This Is What Happy Looks Like
by Jennifer E. Smith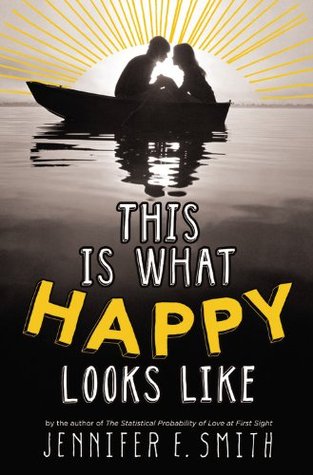 Books I Bought
In Your Dreams by Kristan Higgins
I'm collecting Kristan's Blue Heron series. IYD is book 4.
Stay With Me by J. Lynn
I just read Wait for You and I now know why everyone is gaga for Cam. So excited to read the rest of the books in the series. Up next is Be With Me and Jase Winstead.
Just One Year by Gayle Forman
I have Just One Day so I had to get Just One Year too.
United We Spy by Ally Carter
My Gallagher girls collection is finally complete!
The Infinite Sea by Rick Yancey
The 5th Wave by Rick Yancey
I need to know what the hype is all about. Also, I need to read the books before the movie comes out.
I got these books from Bookoutlet.com. I really need to stop going on that site. I have two more orders that I'm waiting on.
Dangerous Girls by Abigail Haas
If I Should Die by Amy Plum
This Song Will Save Your Life by Leila Sales
Unbreakable by Elizabeth Norris
Under the Same Sky by Genevieve Graham
Sound of the Heart by Genevieve Graham
The Bone Season by Samantha Shannon
These all arrived yesterday (Friday). I bought Beautiful Oblivion by Jamie McGuire and The Art of Wishing by Lindsay Ribar, Keep Me Safe by Maya Banks is a review book and Find Me by Romily Bernard is from Megan of Unearthly Reviews (we traded via YA Book Exchange).
Review Books
The Winner's Crime by Marie Rutkoski
The Queen of Bright and Shiny Things by Ann Aguirre
Dream A Little Dream by Kerstin Gier
Skandal by Lindsay Smith
A HUGE thank you to Macmillan and Ksenia for the amazing book mail in the last two weeks. I've been insane with excitement getting all of these.
The Bodies We Wear by Jeyn Roberts
I also got the following E-ARCs via Netgalley and Edelweiss.
Loop by Karen Akins
A Cold Legacy by Megan Shepherd
Willowgrove by Kathleen Peacock
Pretty Wanted by Elisa Ludwig
Death Marked by Leah Cypess
What new books did you guys get? I wanna see! Leave your STS* link so I can come gush over them. And if you guys read any of the books I mentioned above, let me know your thoughts.
Happy reading,
Michelle
*Stacking the Shelves, or STS, is hosted by Tynga's Reviews