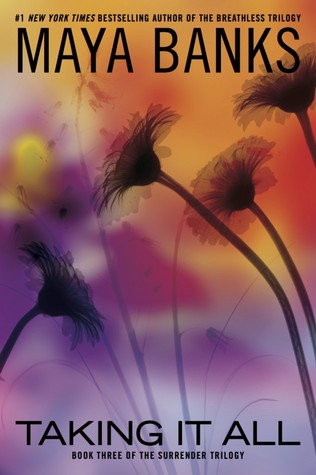 Format: Paperback
Publisher: Berkley Trade
Pages: 320 pages
Release Date: August 5, 2014
Source of my copy: Sullivan and Partners
Series: Surrender Trilogy #3
Synopsis (from
Goodreads
)
Chessy and Tate have been married for several years. In the beginning, their relationship was everything she wanted. Passionate. All consuming. She offered her submission freely and Tate cherished her gift with a tenderness that made her feel safe. Content. Wanted. And loved beyond all measure. But as the years have gone by, Tate has become more immersed in making his business the success it has become, and Chessy has taken a back seat to his business obligations. Growing unhappier with the status of their once blissful marriage, Chessy knows that something has to give. Or they stand to lose it all.
Tate loves his wife. Has always loved her. Providing for her has always been his number one priority. But lately she's seemed unhappy, and he's worried. Worried enough that he arranges for a night together that he hopes will reignite the fire that once burned like an inferno between them.
But a business call at the wrong time threatens everything. Chessy's safety, his concentration, his wife's faith in him as her husband, a man sworn to love and protect her above all else. Gutted with the realization that he's going to lose her—has already lost her—he readies for the fight of his life. Whatever it takes, he'll get her back. And prove to her that nothing is more important than her love. And that if she'll allow him to prove himself one more time, he'll take it all. Everything. But he'll give far more back. Himself. His undying love.
Taking It All
was my most anticipated book in the Surrender trilogy. As soon as Chessy and Tate were introduced in
Letting Go
(book 1--
read my review
) and we learned that they were already married, I got really excited. I love reading the marriage-in-trouble romance trope--it's one of my all-time favorite tropes. I love going beyond the happily-ever-after/marriage ceremony and seeing the couple work through challenges in their marriage and coming out much stronger in the end.
I had pretty high expectations coming into this book. As soon as I got it in the mail, I dropped my currently read and just read it in one go. I gotta say, I was slightly disappointed. I liked it enough and I'm giving it
Before I get into my review, I have to warn you that this review is a bit rant-y. It's hard to explain... I had a lot of issues with this book but I did not hate it, you know?
Okay, so I'd sort of build Taking It All up in my head. Reading the first two books, every time Chessy and Tate came into the scene, I wanted to know more. We got little breadcrumbs about their relationship in the first two books, which built them up and their story in my head.
When I finally got my hands on Taking It All I was expecting a deeper look into their background, their history, how they met and connected, maybe flashbacks to the early stages of their relationship... things that will help me as a reader connect with their characters, to get to know them at a deeper level beyond their marital problems. Unfortunately, I got none of that.
We were told of Chessy's unhappy childhood with her neglectful parents and that was it. There was nothing about Tate's background--actually, we basically know nothing about Tate except that he's building up his business independently after his partner dropped out on him. That was all. I kept waiting for a mention about in-laws and/or other family members and there was nothing.
I did like that there was absolutely no question about Chessy and Tate's feelings for each other. The two of the loved each other and I felt that. Tate worked long hours because he wanted to make sure he had the means to provide for Chessy. However, the fact that Chessy does not work for a living and relied on Tate to provide everything for her brought my feminist hackles up. The subject of her not having a job was brought up, though, when they separated. She did rue the fact that she had no job to support herself and started making plans to get one. But when they got back together again it was never mentioned again and that made me go aaarrgghhh.
Most of Taking It All was spent telling us things rather than showing it to us. The writing had that repetitiveness that Letting Go suffered from, where it felt like the dialogue and the actions of the characters were just going around in circles. The dialogue also felt cheesy at times.
Chessy and Tate's story had so much potential for deeper explorations about marriage and self-identity (especially in Chessy's part) within marriage, as well as other topics and issues. I hate to say it but Taking It All felt shallow and uninspired. It sort of had this "written by numbers" feel to it.
Oh man, this review is kind of harsh but I do stand by my 3-star rating. I'm ragging on this book but I did enjoy it overall. Chessy and Tate were likable characters and Tate's grovelling towards the end was great--I love a good grovelling from the hero in my romances.
While I cannot fully recommend
Taking It All
, if you read the first two books in the series this novel is worth picking up. If you want to pick and choose within this series, I say go with
Giving In
(book 2--
read my review
). I think it's the best written one of the three and it had the heart and deeper emotion that was missing from
Letting Go
and
Taking It All
.
*****
If you read this novel, please let me know what you thought of it. I'd love to get into conversation with you about it. Happy reading!