Hello everyone,
I am excited to be part of the Nalini Singh's Rock Addiction blog tour. It's no secret that I love Nalini Singh's Guild Hunter and the Psy-Changeling series. I cannot get enough of those books and I often re-read my favorite parts a few times a year. So, when I heard that she's writing a contemporary series I made it my mission to be part of the campaign to promote it and hopefully get an early copy of it.
I got my wish! Here's my thoughts about Rock Addiction.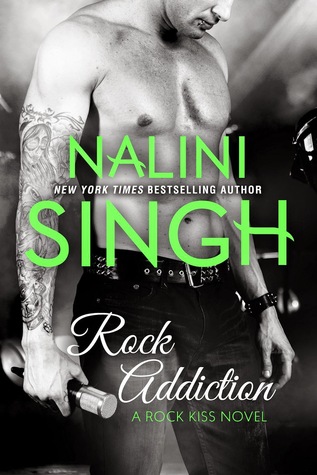 Format: E-ARC
Pages: n/a
Release Date: September 9, 2014
Source of my copy: TRSOR
Series: Surrender Trilogy #3
Synopsis (from
Goodreads
)
A bad boy wrapped in a sexy, muscled, grown-up package might be worth a little risk…
Molly Webster has always followed the rules. After an ugly scandal tore apart her childhood and made her the focus of the media's harsh spotlight, she vowed to live an ordinary life. No fame. No impropriety. No pain. Then she meets Zachary Fox, a tattooed bad boy rocker with a voice like whiskey and sin, and a touch that could become an addiction.

A one-night stand with the hottest rock star on the planet, that's all it was meant to be…
Fox promises scorching heat and dangerous pleasure, coaxing Molly to extend their one-night stand into a one-month fling. After that, he'll be gone forever, his life never again intersecting with her own. Sex and sin and sensual indulgence, all with an expiration date. No ties, no regrets. Too late, Molly realizes it isn't only her body that's become addicted to Fox, but her heart…
Before I get into my review, I'd like to give my rating first. I'm giving Rock Addiction
First of all, I'm not as big a fan reading about rock stars. That's just my preference. But since it's by Nalini Singh and I love her paranormal series, I got really excited. I had high expectations going into this book but I didn't know quite what to expect.
I ended up enjoying Rock Addiction. Nothing about it really stands out among the many contemporary romances out there, but it's a good read nonetheless.
I also like that Rock Addiction is a straight-up contemporary--meaning there was no mystery they have to solve or there's no big conflict they have to untangle. It was a slice of life type of story, like the ups and downs of Fox and Molly's relationship from the time they got together.
Molly and Fox were at a party (Molly is the sister of the band's publicist) and once Fox saw her across the room, he knew he wanted her. Molly was a shy person and has admired Fox from afar. When Fox proposed that they have a month-long affair while the band was taking a break in New Zealand, she saw it as her chance to take a walk in the wild side with her long-time crush. It was very insta-love. There was really no build up to Fox and Molly getting together.
But that wasn't my biggest issue with Rock Addiction. What made this book as 3-star read for me rather than a 4-star read was all of the sex scenes and intimate scenes. There was a lot of them (if you put all of the sex scenes together they'll probably make up half the book) but all of them basically read the same. They dragged the story and grew repetitive and boring after a while and my eyes glazed over them after the first few.
But, like in her other books, I love the camaraderie between the characters, especially among Fox and his band mates. My favorite scenes in the novel were ones between Fox, Molly and the other men in the band. Like the scene when they went to the zoo. Loved that! Those scenes were so reminiscent of the lovely scenes between the SnowDancer wolves or the DarkRiver leopard pack in the Psy-Changeling series.
Rock Addiction was enjoyable despite my issues with it. Besides the positives I already mentioned, I liked watching Molly's character grow as she became a more confident woman and Fox become the man he's supposed to be with Molly. They had some lovely tender moments between them. I am looking forward to reading the next one in the series, which will feature Molly's older sister and another member of the band.
*******
About the Author
New York Times
AND
USA Today
bestselling author of the Psy-Changeling and Guild Hunter series Nalini Singh usually writes about hot shapeshifters and dangerous angels. This time around, she decided to write about a hot and wickedly tempting rock star. If you're seeing a theme here, you're not wrong. Nalini lives and works in beautiful New Zealand, and is passionate about writing. If you'd like to explore her other books, you can find lots of excerpts on
her website
.
Slave to Sensation
is the first book in the Psy-Changeling series, while
Angels' Blood
is the first book in the Guild Hunter series. Once Rock Addiction is out, swing by the site to check out the special behind-
the-scenes page, complete with photos of many of the locations used in the book.
To read excerpts of
Rock Addiction
, you may go
here
,
here
,
here,
here
,
here
or
here
.
The next book in the Rock Kiss series is called
Rock Courtship
and it'll be about Molly's older sister Thea and the band's drummer David. Look out for the cover reveal of
Rock Courtship
coming soon here on the blog.
This blog tour does have an awesome giveaway. Enter on the Rafflecopter below.
a Rafflecopter giveaway
Happy reading,
Michelle