Hi everyone,
Yep, we're bringing you another blog tour goodness and this time it's
The Vault of Dreamers
by Caragh O'Brien. We have an awesome Q+A with Ms. O'Brien today. I'll be sharing what I thought of the novel on a separate post--
read it here
.
But, first, here's what
The Vault of Dreamers
is all about.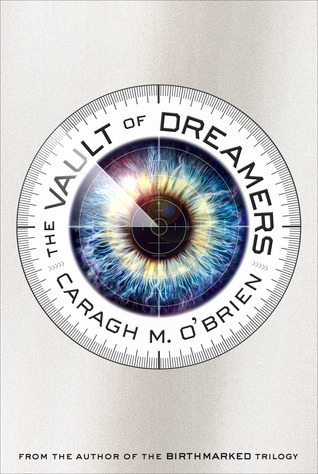 From the author of the Birthmarked trilogy comes a fast-paced, psychologically thrilling novel about what happens when your dreams are not your own.

The Forge School is the most prestigious arts school in the country. The secret to its success: every moment of the students' lives is televised as part of the insanely popular Forge Show, and the students' schedule includes twelve hours of induced sleep meant to enhance creativity. But when first year student Rosie Sinclair skips her sleeping pill, she discovers there is something off about Forge. In fact, she suspects that there are sinister things going on deep below the reaches of the cameras in the school. What's worse is, she starts to notice that the edges of her consciousness do not feel quite right. And soon, she unearths the ghastly secret that the Forge School is hiding—and what it truly means to dream there.
Hi Caragh! Welcome to our blog! We're all about the romance in our YA reads and our questions will mostly be about Linus, Rosie's love interest in The Vault of Dreamers. But to start off, what are your three current favorite YA novels and which of the love interests in those books would you kiss, marry and kill?
Hello to you, Michelle and Leslie! Thank you so much for having me by for the Vault of Dreamers Blog Tour. It's great to be here and I'm psyched to talk a bit about the main guy in my novel. To answer your question, I've been reading a lot of stand-out YA novels lately, so limiting myself to three favorites is not easy, plus my heart is already taken for the kissing and such, so I'll have to improvise there. A true favorite of mine these days is Mary Pearson's
The Kiss of Deception
, and I would risk taking an evening walk in the woods with Rafe. I also devoured Marie Rutkoski's
The Winner's Curse
, and for that one, I would play cards alone with Arin. Finally, I was completely engaged by Cammie McGovern's
Say What You Will
, and for that one, I would willingly hire Matthew to carry my books.
Did you name Linus after Linus van Pelt from Peanuts? Do you have a model or celebrity visual for him? If you do, who? If you don't which celeb or model does he come close to in terms of looks?
Naturally, I have a fondness for Schulz's Linus, but I didn't name my Linus after him. I just thought the name worked for an interesting, unusual character. Certain photos of actor Johnny Pacar when he was young fit well with how I imagine Linus. My character's features reflect that he's smart, perceptive, and a bit wary of others.
How did Linus' character come out when you were plotting the story and how is he different from Leon in your Birthmarked trilogy?
Linus evolved a lot over a dozen drafts. At one point I imagined him as a convict, and then he became another student on The Forge Show with Rosie. Finally he settled into his job in the kitchen where he works incredibly hard, essentially dulling himself to any dreams. Both Linus and Leon have lonely streaks, I'd say, but where Leon has a certain cool polish, Linus is more gritty and frank.
What was the biggest challenge about writing Linus' character? Did he "behave" the way you planned him to or did he take you into unexpected turns as you wrote The Vault of Dreamers?
Linus kept surprising me. Even after I worked out his backstory and wove his role tightly into the main plot, I still had to figure out when he was trustworthy and when he wasn't. His relationship with Rosie has an element of pretend, because of the cameras, and that complicates the truth between them.
If you, Rosie and Linus were to hang out for a day... would you want to hang out with Rosie and Linus for a day and be totally third-wheeling it?... where will you all go and what will you likely talk about?
Ha! I can't quite imagine going with them as a third wheel, but if I could give them a day off from the book, I would send them on a walk with Linus's dog, Molly. They could head into Forgetown for some ice cream at the dairy bar, and my guess is they'd climb the water tower, which is off limits, so Rosie could film from the top.
Again, thanks Leslie and Michelle. I very much appreciate your thoughtful questions. Happy reading!
Thank you so much, Caragh, for answering all of our questions about Linus and also a big thank you to Macmillan and Mary for making this interview possible. We love getting a bit more insight on the creation of Linus' character. And I love your answer for question number one because I'm also a HUGE fan of The Winner's Curse and dying to read the other two books you mentioned.
Caragh O'Brien Bio
Caragh M. O'Brien is the author of the
Birthmarked
trilogy and
The Vault of Dreamers
, both from Macmillan/Roaring Brook Press. Born in St. Paul, Minnesota, Ms. O'Brien was educated at Williams College and earned her MA from Johns Hopkins University. She recently resigned from teaching high school English in order to write young adult novels.
For more info about
Caragh O'Brien
,
The Vault of Dreamers
and Caragh's other novels, visit
her website
, chat with
her on Twitter
and on
Facebook
. And if you haven't already
Add The Vault of Dreamers by clicking on the button above.
The Vault of Dreamers
came out on
September 16th
so you can now pick it up at your favorite brick and mortar bookstore, library or on your favorite e-retailer
Oh, and if you live in the mainland (sadly, not us), the Fierce Reads tour is currently happening. Here's Caragh's schedule via Macmillan's Instagram page. For complete info on the tour, you can go
here
.
Happy reading,
Michelle
P.S. If you missed my non-spoiler review of
The Vault of Dreamers
, you can find it
here
.