Hello everyone,
Before I get to my review of
The Unfinished Life of Addison Stone
, as part of the blog tour participants are to come up with a creative tribute to Addison Stone. Here's my haiku for her.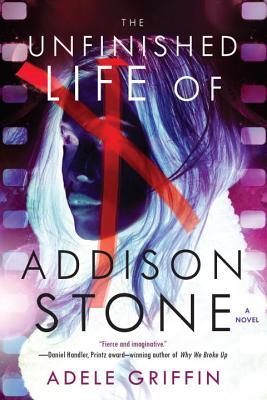 Format: e-ARC
Publisher: Soho Teen
Pages: 256 pages
Release Date: August 12, 2014
Source of my copy: publisher
Series: n/a
Synopsis (from
Goodreads
)
"From the moment she burst into the downtown art scene, seventeen-year-old Addison Stone was someone to watch. Her trademark subversive street art and her violent drowning left her fans and critics craving to know more about this brilliant wild-child who shone so bright and was gone too soon." —Adele Griffin

Two-time National Book Award finalist Adele Griffin offers an ingenious fictional take on celebrity biography, as told in first person interviews through the eyes of Addison Stone's parents, friends, boyfriends, mentors, critics, and more-punctuated in full color with Addison's artwork, photographs, and emails. When it comes to Addison's untimely and mysterious death, nobody escapes unscathed.
The Unfinished Life of Addison Stone
is set up in a very unique way, sort of in the same vein as
Ransom Riggs'
Miss Peregrine's Home for Peculiar Children
because the author combined words and pictures to tell the story. But unlike
Miss Peregrine
,
The Unfinished Life of Addison Stone
is a "docu-novel," a biography about Addison Stone who was beautiful, a brilliant street artist, seemingly high on life and full of quirks and idiosyncrasies but also mysterious and she had a darkness that shadows her. The people around her thought they knew her but, really, they only knew pieces of her.
After her apparent suicide, one of her former teachers decided to put together an biography of Addison Stone by interviewing the people who knew her best and, by the end when the pieces are finally put together, we get discover not only the truth about her suicide but also attempt to answer the question of who Addison Stone really was.
I found the way the novel was set up to be really interesting and unlike anything I've read before. I felt I was reading a biography. The entire novel was told in first-person accounts of Addison's parents, friends, boyfriends, classmates, mentors, critics, etc. and we get a chronological story from when she was a young girl until her death. In between the words, we also got personal pictures of Addison "in action" courtesy of some of the people being interviewed as well as her art pieces. Unfortunately, since I read the digital advance reader's copy I didn't get to see all of the pictures and art--the pictures actually kind of messed up the text and it was sometimes a challenge to read to read the e-ARC. But I did see enough that the first-person accounts, the pictures and the art all combined to give me an intimate look into Addison's character. I felt I got knew her like I would a real-life celebrity.
However, like how I feel about celebrities, I never really felt any emotional closeness to Addison's character or any of the characters in the novel. Reading The Unfinished Life of Addison Stone was a passive experience for me and I never truly cared about what happened to her. I was also watching the television show The Killing the same time I was reading this novel so I kind of warped the two in my head. I kept waiting for a twist in the end where Addison's suicide will turn out to be a murder but there was no such twist. There was a creep factor though because Addison said she heard the voice of a girl named Ida but the girl died a hundred years ago. Her doctors diagnosed it as a mental illness but there was a revelation at the end that made you question whether it really was a mental illness or she was being haunted.
The Unfinished Life of Addison Stone was a very interesting, unique read. While I didn't really connect to Addison's character or any of the other characters, the novel did keep my interest throughout. I didn't love this novel but I did enjoy it.
For more info about The Unfinished Life of Addison Stone, read an excerpt and to get in on the pre-order campaign (the first 100 people who pre-order gets an exclusive tote bag), click on the picture below.
Happy reading,
Michelle