Hello everyone,
I have two books that I want you all to put under your radar. They're both contemporary romance but are very different in tone.
Yep, I'm talking about
It's in His Kiss
by
Jill Shalvis
and
Sins & Needles
by
Karina Halle
. I'm a long-time fan of Jill Shalvis' books. She's actually one of my favorite contemporary romance authors and I auto-buy her books. But I'm new to Karina Halle. I've never read any of her books and I'm so excited to get my copy of
Sins & Needles
.
I have excerpts of both books so read on!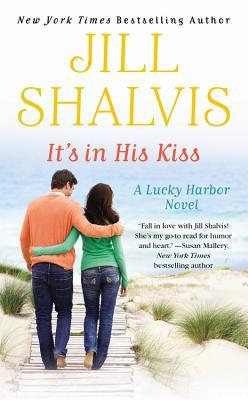 ONE KISS CAN LAST FOREVER
Becca Thorpe has uprooted her life and escaped to the beach. Now's her chance to get away from city living, throw caution to the ocean winds, and live in the moment. Especially if the moment includes the deliciously sexy surfer she meets shortly after arriving in Lucky Harbor. Something about the dark intensity of Sam's eyes and the thrill she gets at his touch convinces her to stay awhile.
Boatbuilder and investment genius Sam Brody is a self-made man who knows how dangerous it can be to mix business and pleasure. But he can't resist offering Becca a job just to hear her laugh and have her near. Yet when her brother comes to town asking for help, will he tempt her back to her glamorous life in the city? Or do Sam and little Lucky Harbor have a chance to win Becca's heart?
Standing up, she moved to the window and took in a most mesmerizing sight.

Not the ocean, though that was pretty damn fine, too.

But Sexy Grumpy Surfer—SGS for short, she'd decided—side by side with one of the other guys from last night, the two of them doing pull-ups on some metal bar. Given their easy, economical speed and the way they kept turning to eyeball each other, they were competing and not for the first time. They were shirtless, their toned bodies gleaming with sweat in the early-morning sun, definitely outshining the Pacific Ocean.

"Wow," she whispered. She had no idea how long she stood there, or how many impossibly difficult pull-ups the two men did before they both dropped lithely to the ground, straightened, and gave each other a shove.

Their laughter drifted to her ears and she found herself smiling along with them. A sweaty tie then, she decided, and realized she was a little hot herself.

Hot and bothered.

Sexy Grumpy Surfer looked damn good laughing. The other guy moved off, back toward the small building be-
tween the street and beach, but SGS remained. Turning only his head, he unerringly met Becca's gaze.

Crap. She dropped like a stone to the floor and lay flat. He hadn't seen her, she thought. He totally hadn't. The glare on the window had blocked his view. Yeah, for sure he'd missed her...

Slowly, she rose up on her knees to take a quick peek and winced.

He was still there, hands on hips, looking right at her.

He'd missed exactly nothing, and she suspected he rarely did.

Then the clouds shifted, and suddenly the sun was shining right on him, like he was the best of God's glory. Since the sun was also bright, making seeing details difficult, it was probably—hopefully—her imagination that his mouth quirked in a barely there smile as he shook his head at her.

Her stomach quivering, she ducked again.

And then from her position prone on the floor, she forbid herself from looking out the window ever again.

Ever.

Crawling to her suitcases in the center of the loft, she sat cross-legged, pulled out her list of Must-Buys, and added curtains. Curtains would keep her from being distracted by her view. Curtains would keep her on task.

And away from further embarrassment.

She showered, dressed, and left the warehouse, send-
ing a cautious look down the alley.

Empty.

Relieved, she left. Several hours later she was back, followed by Eddie, the kid on the bike, whom she'd paid to help lug her loot. Thankfully he came with an older brother who had a truck, and equally thankfully, Lucky Harbor had a "vintage" shop, a really great one. She'd found everything she'd needed there, including gently used sheets that she bought for curtains.

In far less time than it'd taken to shop, she had curtains up and the bed made, and she was sitting on it, staring at an email from her ad agency.



Becca,




The Cushy jingle works. I've sent accounting a request to get you payment. Next up is Diaxsis, the new erectile dysfunction medicine. Details and deadline info attached, if you're interested.



Not Great job, Becca. Not You're back, Becca. Not We've put you back on our top tier, Becca.

But neither was it You're fired, Becca, so she'd take it. But Diaxsis? She blew out a breath and hit reply:



I'm interested.



The next morning, Becca opened her eyes and let out a happy breath. She'd actually slept, and if there'd been bad dreams, she didn't remember them. Turning her head, she stared at the curtains where a weak daylight poked in around the edges.

The insulation in her building was either poor or nonexistent. She could hear every single time the back door of the building next to hers opened.

It opened now.

Don't do it, she told herself. Don't go look. You're stronger than this. You don't need the distraction...

But like Pavlov's dog, she got up and peeked through the curtains.

It was foggy out, but the bigger news was that Sexy Grumpy Surfer was back. It looked chilly, and yet he was in another pair of board shorts and a T-shirt that hugged the width of his shoulders as they flexed enticingly while he dumped the contents of a shop vac into the trash bin.

Sex on a stick.

He didn't look up this time, and Becca forced herself away from the window. She showered, ate the leftover ranch-flavored popcorn—breakfast of champions—and gave her keyboard a long, hard look. "Today," she told it. "Today, you give me something better than It works."

Sitting on the bed, leaning back against the wall, she pulled the keyboard onto her lap.

A year. A year since she'd composed jingles for the best national brands, and the reasons why were complicated. She'd lost her muse, and her footing. On life. That had to change. Hence the across-the-country move. A new venue, a new beginning. But she still needed to prove herself, if only to the woman in the mirror.
Author Info
New York Times
bestselling author Jill Shalvis lives in a small town in the Sierras full of quirky characters. Any resemblance to the quirky characters in her books is, um, mostly coincidental. Look for Jill's bestselling, award-winning books wherever romances are sold and visit her website for a complete book list and daily blog detailing her city-girl-living-in-the-mountains adventures. You can chat with Jill on
her website
,
Facebook
and
Twitter
.
Now, for Sins & Needles...
Ellie Watt is used to starting over. The daughter of a grifting team, Ellie spent her childhood being used as a pawn in her parents' latest scam. Now she's much older, wiser and ready to give her con artist life a rest. But returning to the dry desert town of Palm Valley, California means one more temptation than she bargained for - Camden McQueen. Once known as the high school weirdo, Camden is bigger and badder than the boy he used to be and a talented tattoo artist with his own thriving business. Ellie's counting on Camden still being in love with her but what she's not counting on is how easily unrequited love can turn into obsession over time. When Camden discovers Ellie's plan to con him, he makes her a deal she doesn't dare refuse, but her freedom comes with a price and it's one that takes both Ellie and Camden down a dangerous road.
**The Artists Trilogy is a dark and sexy contemporary ride about three flawed individuals caught in a world where it's so easy to justify the bad things we do. This is a pure adult read (Not YA or NA).
An hour later, Camden was drunk, attempting to make a fire, and we had finally settled on a name. He had wanted to do a nod to some of his Irish ancestry on his late mother's side, so his new persona was called Connor Malloy. It wasn't too similar to Camden McQueen, but because of the pacing, the words rolled off the tongue the same way. To tell the truth, he kind of looked like a Connor.

Though he'd always be Camden to me.

"Come sit with me," he said. He had gotten the fire going and was sitting cross-legged on a Mexican blanket in front of it. The very same place we'd shared some wine and, uh, certain parts of each other. It felt like ages ago. It was amazing how fast everything had changed, even our names.

I hesitated. He was drunk, which was fine. I mean, I'd seen him drunk before. But things were so different and so unpredictable, I wasn't sure who I was going to get. Camden? Connor? Caithness? Today had been the first time we'd been together in a few days, and while things were going smoothly at the moment, I didn't want to push my luck.

"Please," he said, patting the ground beside him.

Feeling he probably wouldn't ask nicely next time, I got up and sat down beside him. The fire wasn't too hot since it was a Duraflame log, but it was pleasantly warm and toasty. I brought my knees up to my chest and watched the flames dance.

"So when do I start becoming Connor Malloy?" he asked in a dull voice.

I turned my head to look at him. The flames reflected in his glasses, making it hard for me to see his eyes.

"When we run," I said.

"Do you ever get tired of running?"

I managed a weak smile. "Why do you think I came here?"

"I thought you came here to screw me over," he said. It was so emotionless and he watched the fire as if hypnotized.

"I didn't come here to screw you over, Camden."

"Please, call me Connor."

"Seriously, Camden, listen to me. I know you don't believe me or trust me but...you have to know, you weren't why I came here."

"No? Then I'm a bit disappointed," he said sadly.

"I didn't think I'd know anyone here. That's why I came back. I figured everyone was either too old to remember me or had moved on. No one stays in the town they were raised in unless they have a reason. I thought I could just start over. I thought my uncle could help me. Or at least try. But he didn't want me."

"You could have gotten a job like everyone else. A real job."

"I tried—"

"You didn't try." His eyes snapped to mine, taking me by surprise. "You wanted the easy way out. Don't you know by now that there is no easy way out?"

His tone put me on edge. I tried to placate him with kind eyes. "I'm getting out now, aren't I? We both are."

A savage smile slowly spread across his lips. "But you think this is easy. Don't you? You're relieved that all you have to do is help me with something you're good at. Somehow, in the end, you'll walk away. Maybe not any richer, but you'll walk away. And you'll feel great about how much you helped Camden McQueen or Connor Malloy or whatever my name will be. You'll walk away feeling like a winner. That's not fair, Ellie. You don't deserve to feel that way."

I couldn't figure out what to say because what he was saying was the truth. He removed his glasses and put them on the ground beside him. His eyes, heavy lidded with drink, drifted to my mouth. I gulped nervously, not liking the tension that was jagging between us.

"How do you think I should feel?" I asked thickly. My nerves were on fire. Everything was on fire.

"Like this," he said. Slowly, he leaned over and kissed me. His lips were soft and tasted like bourbon. I couldn't kiss him back if I wanted to; I couldn't do anything but freeze. He pulled back a little, his eyes inches away. I could see my frightened reflection in the black hole of his pupil. "See? You're afraid."

"You want to scare me?" I whispered.

He kept his lips an inch from mine. His fingers smoothed the hair off my face, tucking it behind my ear.

"Yes," he murmured. His lips brushed mine as he spoke. My breath hitched as his other hand slid the strap of my tank top and bra off my shoulder. I shivered from his touch, from his eyes, from whatever was buried in his heart and eating him alive.

"Camden," I warned, my voice shaking.

He placed his lips on my shoulder and started kissing down my arm. He was right. I was scared. I was so, so afraid. Yet a terrible part of me wanted him to continue. I was turned on and frightened, ready to run, ready to fight, ready to grab him and kiss him, devour every part of him. I didn't know what was going on, but I was stuck in a cage with something that might or might not harm me, that might give me everything and leave me with nothing.

His lips came back up my arm and across my collarbone. Slowly. Very slowly. The slowest, softest kisses I'd ever felt. Then his mouth edged down my chest. I was sure he could feel my heart underneath, pounding wildly. With his hand, he pulled down my top and bra and exposed my right breast. My nipple was already hard and now puckered in anticipation. His lips circled it, then his warm tongue lashed it gently, teasing, tempting. He let out a small sigh then tugged at my nipple ring with his teeth. The pleasure traveled along my nerves like lightning strikes.

I couldn't swallow. I felt like I was drowning under his touch. "Camden, please..."

Please stop, I was thinking. This isn't right. It feels right and it feels wrong but it isn't right. There's motive and it isn't lust. It isn't lust. It's revenge.

Revenge never felt so good.

He nipped at me, and my back arched. A low moan escaped my lips. I wanted him. I wanted the person that didn't exist. I wanted the wrong thing.
The daughter of a Norwegian Viking and a Finnish Moomin, Karina Halle grew up in Vancouver, Canada with trolls and eternal darkness on the brain. This soon turned into a love of all things that go bump in the night and a rather sadistic appreciation for freaking people out. Like many of the flawed characters she writes, Karina never knew where to find herself and has dabbled in acting, make-up artistry, film production, screenwriting, photography, travel writing and music journalism. She eventually found herself in the pages of the very novels she wrote (if only she had looked there to begin with). She's hard at work on her next novel. Find Karina on
her website
,
Facebook
and
Twitter
.
And if you want to try your luck, Karina's publisher Forever is running a giveaway to celebrate the paperback release of
Sins & Needles
.
a Rafflecopter giveaway
I hope you add both books to your Goodreads list or your wishlist. I am so excited for both books. Just for the excerpts, I know they're going to be amazing.
Happy reading,
Michelle