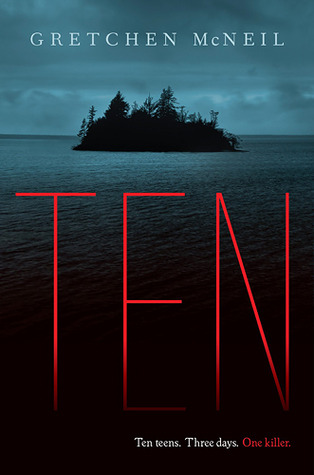 Format: Hardcover
Publisher: Balzer + Bray
Pages: 296 pages
Release Date: September 18, 2012
Source of my copy: bought
Series: standalone
Synopsis (from
Goodreads
)
SHHHH!
Don't spread the word!
Three-day weekend. Party at White Rock House on Henry Island.
You do NOT want to miss it.
It was supposed to be the weekend of their lives—an exclusive house party on Henry Island. Best friends Meg and Minnie each have their reasons for being there (which involve T.J., the school's most eligible bachelor) and look forward to three glorious days of boys, booze and fun-filled luxury.
But what they expect is definitely not what they get, and what starts out as fun turns dark and twisted after the discovery of a DVD with a sinister message: Vengeance is mine.
Suddenly people are dying, and with a storm raging, the teens are cut off from the outside world. No electricity, no phones, no internet, and a ferry that isn't scheduled to return for two days. As the deaths become more violent and the teens turn on each other, can Meg find the killer before more people die? Or is the killer closer to her than she could ever imagine?
I was really looking forward reading
Ten
because I have heard Gretchen McNeil praised as a good horror writer. But
Ten
was underwhelming at best.
Most of the book read like a silly teen "scary" movie--as in not scary at all. The last fourth of the book did get exciting somewhat. It did give me a bit of a run around trying to figure out who the killer was and I was finally engaged. The mystery of the last fourth of the novel was what saved the book from my giving it less than three stars.
I never really connected with any of the characters, even the main character. The secondary characters felt like shallow cutouts of cliché teen personalities like you'd find in a cheesy TV show. Maybe since most of them were merely there to die, the author didn't really put that much effort in giving them any of them any sort of real personality. I hardly cared about any of their deaths, and that really lessened the "scary" factor of the novel for me.
As for the main character Meg, she was more developed than the others but only just. I couldn't have cared less if the killer got to her. Meg had a bit of a romance going on with one of the boys but I never really felt any spark between them.
I read this book fairly quickly but only because it was one of those easy, mindless reads and not because I was really invested in the characters or even finding out who the killer was. If you're looking for a true horror novel, you'll want to skip this one.