Hello everyone,
If you didn't know already, the third book in Maya Banks' Surrender trilogy
Taking It All
came out on Tuesday. I reviewed the first two books in the series earlier this year (read my thoughts about
Letting Go
and
Giving In
) and I really enjoyed them both. But I am most excited for
Taking It All
because has one of my favorite romance trope, which is the marriage-in-trouble trope. Here's the synopsis.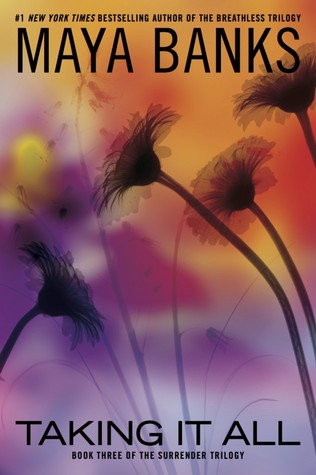 Chessy and Tate have been married for several years. In the beginning, their relationship was everything she wanted. Passionate. All consuming. She offered her submission freely and Tate cherished her gift with a tenderness that made her feel safe. Content. Wanted. And loved beyond all measure. But as the years have gone by, Tate has become more immersed in making his business the success it has become, and Chessy has taken a back seat to his business obligations. Growing unhappier with the status of their once blissful marriage, Chessy knows that something has to give. Or they stand to lose it all

Tate loves his wife. Has always loved her. Providing for her has always been his number one priority. But lately she's seemed unhappy, and he's worried. Worried enough that he arranges for a night together that he hopes will reignite the fire that once burned like an inferno between them.

But a business call at the wrong time threatens everything. Chessy's safety, his concentration, his wife's faith in him as her husband, a man sworn to love and protect her above all else. Gutted with the realization that he's going to lose her—has already lost her—he readies for the fight of his life. Whatever it takes, he'll get her back. And prove to her that nothing is more important than her love. And that if she'll allow him to prove himself one more time, he'll take it all. Everything. But he'll give far more back. Himself. His undying love.
Unfortunately, my copy of
Taking It All
still hasn't arrived because it takes forever for books to get to Hawaii but as soon as I get my copy I'm planning on devouring it and posting my thoughts about it on this here blog.
In anticipation for
Taking It All
, I got to interview Maya Banks!
Hi Maya! Thanks again for stopping by our blog and taking the time answering our questions. What songs can we find in your iPod?
Anything from classical to country
What movies and/or TV shows are your current favorites?
I don't watch much TV so I couldn't even tell you what was ON much less if I was watching it
Maya Banks
And what book titles can we find on your nightstand?
I literally have thousands on my Kindle and they are a wide variety of romance. All I require is a good STORY and I'm happy!
How was writing Taking It All different from writing Giving In and Letting Go? Did you come across challenges in Taking It All that you didn't have in Letting Go or Giving In?
Oh absolutely not.
Taking It All
was something all together different than both
Letting Go
and
Giving In
because the hero and heroine already have an established relationship, one that is in trouble. Most romances focus on FINDING the HEA but I love going beyond the HEA down the road and portraying how hard it is sometimes to keep a relationship solid even when they obviously love one another.
I find the idea of having to WORK to KEEP the HEA to be fascinating and there is so much realism and emotion and angst because let's face it. Any relationship requires work and vigilance.
What was the first scene that you "saw" when you started writing Taking It All? Did it make it in the final book?
I actually "saw" a scene from
Taking It All
before I even knew what
Letting Go
and
Giving In
would be about. I saw a scene where one moment of inattention cost the hero everything and I was fascinated by the concept of having to redeem him and work HARD to get the heroine back.
So I actually STARTED with the third book in the trilogy and worked backwards.
Who was the easiest character to writing in the Surrender trilogy?
None of them were easy because they are all so different. I think Jensen and Kylie's story was both the hardest AND the easiest book to write.
*******
For more info about Maya Banks, visit her online at
her website
,
on Facebook
, and
on Twitter
. A huge thank you again to Maya and to Caroline at Sullivan and Partners for making the interview possible.
Don't forget to pick up
Taking It All
from
Good luck! And have a wonderful weekend filled with good reads.
Happy reading,
Michelle