Hello everyone,
Boomerang
by
Noelle August
is another I-am-beyond-excited new adult title that I really want to get my hands on. And in case you didn't know, Noelle August is a pen name of authors Lorin Oberweger and Veronica Rossi (who gave us the Under the Never Sky series)!
The first book in a sensational New Adult trilogy from Noelle August

Welcome to Boomerang.com, the dating site for the millennial gen with its no-fuss, no-commitments matchups, and where work is steamier than any random hook-up

Mia Galliano is an aspiring filmmaker. Ethan Vance has just played his last game as a collegiate soccer star. They're sharp, hungry for success, and they share a secret.

Last night, Ethan and Mia met at a bar, and, well . . . one thing led to another, which led to them waking up the next morning—together. Things turned awkward in a hurry when they found themselves sharing a post hookup taxi . . . to the same place: Boomerang headquarters.

What began as a powerful connection between them is treated to a cold shower courtesy of two major complications. First, Boomerang has a strict policy against co-worker dating. And second, they're now competitors for only one job at the end of summer.

As their internships come to an end, will they manage to keep their eyes on the future and their hands off each other, or will the pull of attraction put them right back where they started?
And what's awesome about
Boomerang
is that the publisher William Morrow is serializing the novel before its official release date of July 8th. Here's the breakdown:
June 24
: Part 1 (
Read it now for FREE!! The links are below.
)
July 1: Part 2 ($0.99)
July 8: Part 3 ($1.99) or get the Full Book ($2.99)
The only downside about buying it in parts is that it's in
parts
in your e-reader instead of one whole book but if you're impatient (like I am) this is great! If anything, we'll get a
free
taste of the novel to see if we really want to read the whole thing.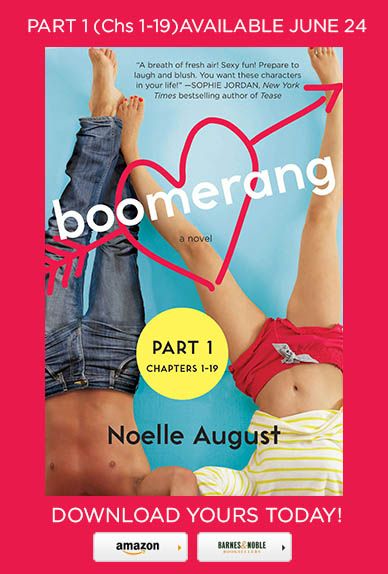 Amazon | Barnes & Noble

Good luck and happy reading,
Michelle