Hello everyone,
Our blog do not participate in many book cover reveals unless it's an I'm-making-it-my-mission-to-get-my-hands-on-this-book-earlier-rather-than-later kind of book. I mean, I am really, really excited for A LOT of books to come out but there are certain books that I'm beyond really, really excited for. Sophie Jordan's Wild is one of those books. That being said, I apologize for my excessive use of exclamation marks.
I loved
Foreplay
(it was one of my favorite reads of 2013--
my review here
) and
Tease
was fantastic as well (my review will be up next week). In
Wild
, we finally get Georgia and Logan's story! While I was reading
Foreplay
and
Tease
, I kept thinking how awesome it would be for prim and proper Southern belle Georgia to dump her lame boyfriend and hook up with player of the first order Logan. They did--or, you know, will! Woo-hoo!! I totally called it!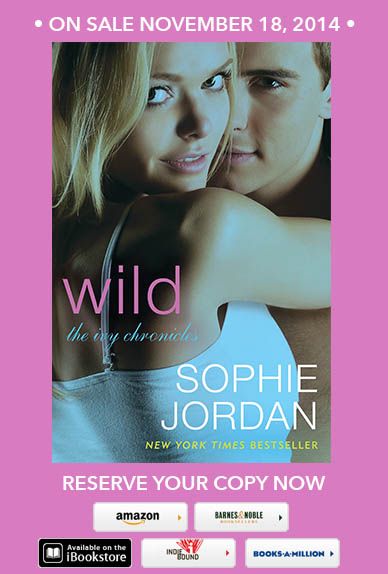 Amazon | Barnes & Noble | Indie Bound | Books-a-Million | iTunes


Months after her boyfriend dumped her, Georgia can still hear the insults he hurled at her. Boring. Predictable. Tame. Tired of feeling bad, she's ready to change her image, and go a little wild. What better way to prove her ex wrong than a hot night of adventure at the secret campus kink club?

In the shadowy den of the club, she unexpectedly runs into Logan Mulvaney, her friend's little brother. A player extraordinaire too hot for his own good, he may be younger, but the guy is light years ahead when it comes to the opposite sex. Now he's telling her to go home-"good girls" don't belong here!

Georgia is tired of having others define her. She's going to teach Logan a lesson he won't forget-one white hot, mind-wrecking kiss... that leads to another... and another... and... Realizing she's way in over her head, Georgia runs.

Only Logan won't let her go. Everywhere she goes he's there, making her want every inch of him. Making her forget who she is. Who he is. And just how wrong they are for each other.
EEEPPPPP!!!
Okay, hmmm... I don't know about the cover model for Georgia. I pictured Georgia to have less of a practiced come-hither, sexy glint in her eyes. Maybe this is her at the kink club? But I think the model for Logan is pretty spot-on. I pictured him as a baby-faced cutie. But who or what is he looking at?
Regardless,
Wild
sounds so, soooo GOOD!! And if I'm not mistaken Logan is a "younger man," about a year younger than Georgia if I'm remembering correctly. Please correct me if I'm wrong, but I think Logan just graduated high school while Georgia is about to enter her second year of college. That's going be an interesting dynamic between them.
Like I said, I'm beyond excited for
Wild
. I already pre-ordered it and I'll be counting the days til
November 18th
... although I'm making it my mission to get my hands on an early copy.
Have a great weekend and happy reading,
Michelle