Hello everyone,
I am so excited to be part of Sarah Ockler's
#scandal
blog tour. I reviewed
#scandal
back in March (read my review
here
). I just got approved on Edelweiss and I devoured it right away because it's just my kind of read and I loved it!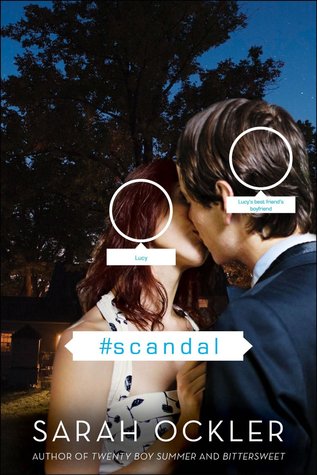 Lucy's learned some important lessons from tabloid darling Jayla Heart's all-too-public blunders: Avoid the spotlight, don't feed the Internet trolls, and keep your secrets secret. The policy has served Lucy well all through high school, so when her best friend Ellie gets sick before prom and begs her to step in as Cole's date, she accepts with a smile, silencing about ten different reservations. Like the one where she'd rather stay home shredding online zombies. And the one where she hates playing dress-up. And especially the one where she's been secretly in love with Cole since the dawn of time.

When Cole surprises her at the after party with a kiss under the stars, it's everything Lucy has ever dreamed of… and the biggest BFF deal-breaker ever. Despite Cole's lingering sweetness, Lucy knows they'll have to 'fess up to Ellie. But before they get the chance, Lucy's own Facebook profile mysteriously explodes with compromising pics of her and Cole, along with tons of other students' party indiscretions. Tagged. Liked. And furiously viral.

By Monday morning, Lucy's been branded a slut, a backstabber, and a narc, mired in a tabloid-worthy scandal just weeks before graduation.

Lucy's been battling undead masses online long enough to know there's only one way to survive a disaster of this magnitude: Stand up and fight. Game plan? Uncover and expose the Facebook hacker, win back her best friend's trust, and graduate with a clean slate.

There's just one snag—Cole. Turns out Lucy's not the only one who's been harboring unrequited love...
About the Author
Sarah Ockler is the bestselling author of novels for teens, including The Book of Broken Hearts, Bittersweet, Fixing Delilah, and the critically acclaimed Twenty Boy Summer, a YALSA Teens' Top Ten nominee and IndieNext List pick. Her latest, #scandal, hits the shelves in June 2014.
Sarah is a champion cupcake eater, coffee drinker, night person, and bookworm. When she's not writing or reading at home in Colorado, she enjoys taking pictures, hugging trees, and road-tripping through the country with her husband, Alex.
You can connect with Sarah on
her website
,
Goodreads
,
Twitter
and
Facebook
.
*****
Okay, since I already reviewed
#scandal
, I thought it would be fun to do a playlist of songs that I thought complimented the novel. These songs are not associated with any scene in mind but were songs that I captured the mood of
#scandal
for me.
When I was thinking of a love song for Lucy and Cole, though, I kept coming back to Justin Timberlake's "Not a Bad Thing." There was this scene almost at the end of the novel when Lucy and Ellie (her best friend that was going out with Cole) finally sat down and talked about Cole and I kept coming back to this song. The words Lucy was saying to Ellie and her epiphanies about her relationship with Cole hardly matches the lyrics to the song, but the sentiment of "Not a Bad Thing" go with Lucy and Cole's HEA I thought.
Anywho, as part of the blog tour, there's also an awesome giveaway going on where you can win a prize pack with 4 signed hardcovers of Sarah Ockler's books, including
Twenty Boy Summer
,
Fixing Delilah
,
Bittersweet
, and
The Book of Broken Hearts
. Enter in the Rafflecopter below.
a Rafflecopter giveaway
If for some reason you cannot see the embedded Rafflecopter, you can enter
here
.
If you read #scandal already, let me know what you think of it. It's the only book I've read by Sarah Ockler and I've read reviews saying that it's very different from her other books. I wouldn't know, but I loved #scandal. Lucy was my kind of snarky/funny character--loved her!--and the romance was just so sweet. It's lighter in tone but it discusses important issues about social media and cyber bullying that are very relevant today.

Happy reading,
Michelle