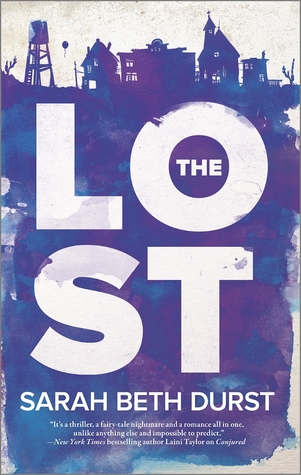 Format: ARC
Publisher: Harlequin MIRA
Pages: 352 pages
Release Date: May 27, 2014
Source of my copy: publisher
Series: The Lost #1
Synopsis (from
Goodreads
)
When Lauren receives some bad news about her mother's already deteriorating health, she needs to get away and clear her head; an aimless drive to nowhere sounds perfect. But after she gets caught up in a blinding dust storm, she pulls off the road and ends up in a small town called Lost. She is immediately wary of the town's strange inhabitants: the eternal six year-old ballerina, wielding a knife; the perennial 1980s prom queen; the former CEO digging through the garbage for a lucky penny. Like everyone else there, Lauren quickly discovers once you arrive in Lost you can't ever leave—not until you find what you have lost. Scared and anxious to get home, Lauren has to dig deep to find what she is missing or remain separated from her mother forever.
The Lost is Sarah Beth Durst's first adult novel and, like in her YA novels, she once again takes us on a unique adventure in a strange yet brilliantly crafted world. Seriously, you guys, Ms. Durst can do no wrong. Every book I've read by her (granted I haven't read everything she had written but I've read quite a few including Ice, Drink Slay Love and Enchanted Ivy) was superbly written and The Lost was no exception.
The premise of The Lost is simple enough: a woman, Lauren, received word that her mother's already deteriorating health had taken a turn for the worse. She needed to clear her mind so instead of turning on to the street she typically takes to go to work, she instead turned the opposite way and just kept driving. Soon, she found herself caught in a dust storm and wound up in a very strange town called Lost. Lauren quickly found out that Lost was unlike any other town. It was literally a place where all the lost things, including people, in the world go. The only way a person can leave the town was if they can figure out and find what they had lost. Lauren must dig deep inside herself to figure out what she had lost or she'll be stuck in Lost forever.
That was the basic premise that I got before I started reading the novel. I didn't quite know how the story was going to go or who the other characters were. I don't like going into a story blind but the writing was so good that I kept going and I'm so glad I did.
Lauren was your every-girl. We've kind of been where she was in life. She had a job she's not quite happy with but it pays the bills and lived an unassuming life until her mother got sick and moved in with her. Lauren felt heavy with responsibility, sadness, worry and she couldn't really talk to anyone because she's drifted off from her friends. When she got stranded in Lost, she reacted how I would react if I were in her shoes: a mix of disbelief, fear, confusion, sadness, panic, hopelessness and needing to get out of there before she missed her mother completely. She was an easy character to like.
Two people took Lauren in after she unintentionally angered the townspeople. One is the beautiful and mysterious Peter who ran around with his long black trench coat, no shirt underneath. He had feather tattoos on his body, spoke in riddles and answered a question with a question. The other is Claire, a young girl who carried a stuffed toy in one hand and a knife in another. Both were very interesting characters.
The story was bleak, with Lauren stuck in this strange, rundown town filled with lost things and its unfriendly inhabitants. Is there even hope for Lauren to get out and get back to her sick mother before it's too late? Or is she stuck in Lost forever? If she does find a way out, it will mean leaving the two people she had grown to care for, Peter and Claire.
The Lost was a dark, unusual read and in the wrong hands it would have been a frustrating and confusing one, but Sarah Beth Durst makes it so easy to follow with her lyrical writing and deft storytelling. It drew me in in a way I wasn't expecting and I cannot wait to read book two, which is called The Missing. However, I don't think it's a book for everyone. The pacing is slower and it is a retrospective, contemplative kind of read rather than an action-packed, race-through-the-pages type.
If you love Sarah Beth Durst's novels, you have to pick up
The Lost
. I guarantee you'll enjoy it. If you're new to Sarah's books, I suggest starting with her YA novels, particularly
Ice
(
Leslie also suggest Vessel
) to get a feel for her writing. If you're a YA reader, don't let the adult label deter you from picking up
The Lost
--it can be enjoyed by both a YA and adult audience.
Hi Sarah! Welcome back to our blog. Can you please describe Lauren Chase, the main character in The Lost?
Lauren feels empty. She's twenty-seven, and her life hasn't turned out the way she imagined. She's working a dead-end job, she's drifted apart from her friends, and her mother (who is her best friend) is sick. On the day that her mother is supposed to get the results of her latest medical tests, Lauren gets into her car to drive to work and instead of turning left at the light, drives straight. There's a part of her that feels that if she isn't there to hear the bad news, then the bad news can't happen. So she drives and drives until she runs out of gas in a town called Lost. Problem is, once you're in Lost, you can't leave. It's a town full of lost things and lost people, and no one can leave until they've found what they lost.
How is Lauren different from your other female characters? How did you get inside her head while writing her character?
A lot of my characters are kick-butt, take-no-prisoners heroes. Liyana from
Vessel
is determined, practical, and brave and intent on single-handedly saving her entire clan. Pearl from
Drink, Slay, Love
is evil and fabulous. Cassie from
Ice
would rather dive into the Arctic Ocean than admit defeat. But Lauren... She's not a hero. When we meet her, she's running from her life. And all she wants to do, after she realizes she's trapped, is get back to it.
Getting inside her head was an emotional experience. The POV for this book is very, very tight. It's told in first-person present tense. Every sentence is a breath. So I tried to breathe with Lauren as I wrote. I laughed with her when she laughed, and I cried with her when she cried.
The whole thing required a lot of chocolate.
You always write such unique settings in your YA novels and it's no different in THE LOST (your first adult novel). How do you flesh out the setting in your novels? Do you draw maps, collect pictures or is
everything all in your head? Is your process different in every book you write?
I loved creating the town of Lost. In fact, it was the first thing I did, before I had a character or a plot or anything. I had this idea for a town of lost things, and so I began with a three-page, single-spaced list of everything that could possibly be lost: socks, shoes, keys, umbrellas, cell phones, dogs, children, dreams, memories, minds... And then I built the town from there.
With some books, the world grows out of the characters. But in this one, the characters definitely grew out of the world.
Lauren ended up in a place where all lost things go. What things might she find there that belonged to you?
I've lost a lot of earrings over the years. If I see Lauren wearing a gecko on one ear and a blue butterfly on the other, I'll know she's found my stuff.
What is your favorite scene or favorite quote in The Lost?
My personal favorite moment:
Glancing back, I see the mob has spilled back onto the street. They are watching me. So far, they aren't following, but that could change. "If you know a place to hide..."

The girl switches direction, pulling me into the alley between the barber shop and a decrepit triple-decker house. She still doesn't speak.

I don't know why I'm trusting her. "Are you helping me, or dragging me someplace private to cut me to pieces and feed me to your teddy bear? Just curious."

The girl looks at me with her wide eyes. "My name is Claire. And my teddy bear is not hungry today."
Thanks so much for interviewing me!
*****
A huge thank you to Sarah for answering all of my questions. For more info about Sarah and her books, stop by
her website
and chat with her on
Twitter
.
And don't forget to add The Lost!
I really hope you guys pick up The Lost (or, if not the lost, then one of her other novels). Sarah is truly one of my all-time favorite authors. She just have a way with words that is so smooth like butter and so lyrical that her books are a treat to read.
Happy reading,
Michelle