Hello bookish friends,
Back in January
I wrote that I'm making it my mission
to start reading and finish book series this year, especially ones that I already have.
Yeah. The plan is not going that well.
Ever since I bought the entire
Shatter Me
series by Tahereh Mafi and binged read all the books (including the two novellas) in a month, I was on a book high. BUT instead of reading the series books I already have, I bought even
more
series.
In the past couple of months, I've acquired:
The only one I've read so far in that stack was Throne of Glass (and I liked quite a bit).
Seriously, when am I going to find the time to read all of this? Plus, all of the review books? Are two questions I keep asking myself and in which I have not answers to except that it's a book nerd thing this need to collect all the series.
Besides buying books I have no time to read, I also have other distractions.
I cannot stop listening to Ed Sheeran's new song "All of the Stars" from the TFIOS soundtrack. I have this song on repeat since it was released on YouTube three days ago.
Such a beautiful, gorgeous song.
Speaking of TFIOS, we have last than a month left until the movie is out in theaters!!
Eeeepp!!
Leslie and I are planning on catching it opening night. We are so ready to cry our hearts out--or I'm ready with my packs of Kleenex since Leslie hardly ever cries in movies (or books). Ha! Maybe TFIOS will crack her stone heart.
And, speaking of YA movie adaptations, have you guys heard the movie news about
The Duff
, one of my all-time favorite YA contemporary reads?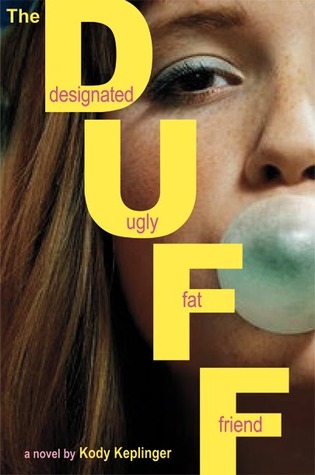 Author Kody Keplinger
announced yesterday on her Tumblr
that two actresses had been cast for
The Duff
the movie: actress Mae Whitman will play Bianca and Bella Thorne will play Madison, who was not a character in the book. That's a red flag right there. There's definitely going to be significant changes in the movie from the book. I'm crossing my fingers that, despite the changes, the heart and soul that made me love novel will remain the same. Just
please don't make it another
Ella Enchanted
book to movie disaster. Please, please don't make it another
Ella Enchanted
book to movie disaster. PLEASE...
Okay, enough about the big screen. Let's talk about the small screen, namely my favorite new TV show
I decide to give
Orphan Black
a go after a bunch of YA authors I follow on Twitter kept tweeting about it and urging other authors to check it out. Since I started watching last week,
Orphan Black
has taken over my life! When I am not reading, I am watching
OB
. I'm sure you guys have heard of it? Because the Interwebs have been a-buzzing about this show and
O.M.G.
YOU GUYS!!! This show is amazing. Addicting. So, so, so,
so
GOOD!! If you haven't, read about it
here
.
If you're not already, you HAVE to watch this show. If it wasn't for my job, I would've binge watched all the episodes in one go. All of last week, as soon as I got home from work, I go straight to my Amazon Prime watchlist and watch another episode. Sadly, season 2 is not available on Prime and I'm on the last episode so... yeah. I have to figure something out.
Alrighty. I'm off to work. Have a great Tuesday, everybody and as always...
Happy reading,
Michelle