Winterspell
is inspired by
The Nutcracker
! And it sounds epic. I
needz
this in my hands now.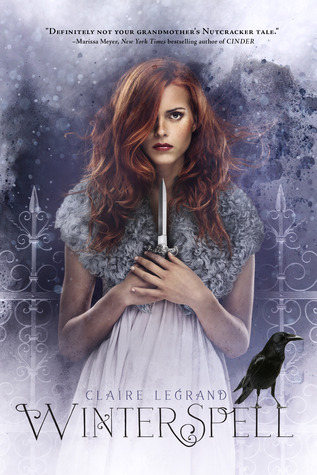 The clock chimes midnight, a curse breaks, and a girl meets a prince... but what follows is not all sweetness and sugarplums.

New York City, 1899. Clara Stole, the mayor's ever-proper daughter, leads a double life. Since her mother's murder, she has secretly trained in self-defense with the mysterious Drosselmeyer.

Then, on Christmas Eve, disaster strikes.

Her home is destroyed, her father abducted--by beings distinctly not human. To find him, Clara journeys to the war-ravaged land of Cane. Her only companion is the dethroned prince Nicholas, bound by a wicked curse. If they're to survive, Clara has no choice but to trust him, but his haunted eyes burn with secrets--and a need she can't define. With the dangerous, seductive faery queen Anise hunting them, Clara soon realizes she won't leave Cane unscathed--if she leaves at all.

Inspired by The Nutcracker, Winterspell is a dark, timeless fairy tale about love and war, longing and loneliness, and a girl who must learn to live without fear.

Winterspell
will be released on September 30, 2014. Click on the cover to go to the book's Goodreads page.
What book(s) do you "covet" this week?
Leave us a comment with a link so we can check your WoW of the week too.
"
Books I Covet
" is a weekly or bi-weekly blog post series we do here on Wednesdays.
It will feature books we are very excited about reading and plan on buying/borrowing in the near future.
It is basically the "Waiting On" meme hosted by

Jill of Breaking the Spine, but we just like the title "books we covet" better.

We
will include the books' blurb, cover art, and/or release date if they're available.