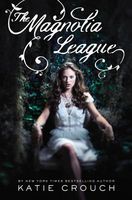 Hardback: 348 pages
Publisher: Little Brown
R
elease Date: May 3, 2011
ISBN: 9780316078498
Source of my copy: publisher
Series: 1st book in the series
Synopsis (from Goodreads)


After the death of her free-spirited mother, sixteen-year-old Alex Lee must leave her home in northern California to live with her wealthy grandmother in Savannah, Georgia. By birth, Alex is a rightful, if unwilling, member of the Magnolia League, Savannah's long-standing debutante society. She quickly discovers that the Magnolias have made a pact with a legendary hoodoo family, the Buzzards. The Magnolias enjoy youth, beauty and power. But at what price? As in her popular adult novels, Crouch's poignant and humorous voice shines in this seductively atmospheric story about girls growing up in a magical Southern city.
Leslie's Review
:
I was really excited to read this book because of its gorgeous cover but I wasn't quite sure what to expect since I've never read anything involving hoodoo magic and I didn't know what that was. Now that I have read it, the cover and its synopsis didn't prepare me for how awesome--and oddly refreshing--a read
The Magnolia League
turned out to be.
This book had many things that stood it apart from other books I've read. First, the book mentioned two settings--the commune farm in northern California that Alex grew up in and the majestic mansion of Alex's wealthy grandmother, Miss Lee, in Savannah, Georgia. Both settings were very opposite from each other and I liked how their differing atmospheres played a key part in shaping Alex's character throughout the book. As for the plot, it was full of surprises and twists that kept me turning the pages to find out what will happen next. But the ending was the most surprising and I was nervous to read it because I anticipated something bad and big was going to happen. When I finally brought myself to read it... OMG!! I can't wait for the next book--even thinking about it now I'm filled with impatience for the wait.
The characters were a big part of what made this book so interesting for me. I loved them all. I loved Madison's snarky character and Hayes's genteel manners. I loved Dex for his dorky weirdness and how he was Alex's only friend who didn't criticize her interests from the very first day they met. Thaddeus (the love interest) was also great but I wish he and Alex started talking sooner in the story because I didn't really get to know his character until they started dating. Towards the end, though, I was finally beginning to get a hint of what he was like. I hope I get to read more about him in the next book. And of course there's Alex. Alex was the most interesting heroine I've ever read this year. She is this hippy girl from California suddenly plunked in the South. Throughout the book I would get so annoyed with her (like the other characters) for her stubbornness and her habit of not taking things seriously. But when she wasn't trying my patience, she was a very strong and brave. She's insecure about herself and in the ending scene I was truly nervous and scared for her so I guess that meant I cared for her character.
The Magnolia League
had great settings, fantastic characters and a thrilling plot. The whole premise of hoodoo magic and its deadly consequences and the mysterious secret societies, I was really into it and it was fantastic. I know there's some mixed reviews about this book but it worked for me--it left me speechless and then wanting more. Katie Crouch ended this book with an incredible cliffhanger and now I can't wait to see what will happen next.
4.5 out of 5 stars