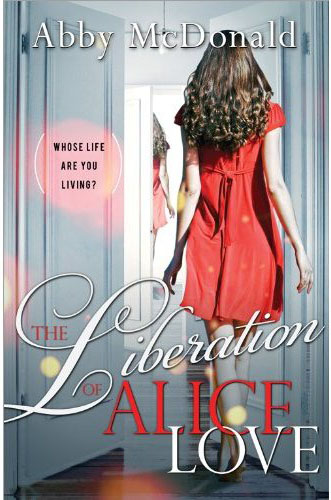 ARC: 424 pages
Publisher: Sourcebooks Landmark
R
elease Date: March 1, 2011
ISBN:
9781402253133
Purchase on Amazon: click on the cover

Source of my copy: publisher
Synopsis (from

Goodreads

)


Clever and elegant, this novel forces you to think about how far you'd go to find the truth, and how many lies you'd tell to uncover it. Alice Love keeps her life (and boss, and family) running in perfect order, so when her bank card is declined, she thinks it's just a simple mistake. Sadly, someone has emptied her bank account, spending her savings on glamorous holidays, sexy lingerie, and a to-die-for wardrobe, and leaving Alice with lots of debt. But she soon wonders if perhaps her alter-ego's reckless, extravagant lifestyle is the one Alice should have been leading all along...
Michelle's Review
:
**slight spoilers**
Alice Love's ordered life turned upside down when she became a victim of identity fraud by no other than someone she considered a close friend (who was revealed a few chapters in). Fueled by the need to figure out the motivation of the thief, she embarked on an investigation that takes her around London, Italy and even Los Angeles with the help of Nathan, a fraud investigator. But as Alice delves deeper into the thief's daily routines and purchases (thanks to the bank statements left in her wake), she sort of takes on the extravagant lifestyle of the thief and she finds herself enjoying it more than she should. Through this year-long journey, Alice finds herself doing things she herself would have never done and taking risks both personally and professionally and gaining a different kind of confidence (her old self was not so much a doormat as someone who has their life all planned out), she was left to wonder if this glamorous life was one she should have been living all along?
I thought
The Liberation of Alice Love
was an entertaining read with a mystery-feel in the whole novel as Alice piece through the clues involving the thief. Alice was an interesting character, I liked her and felt for her when her identity was stolen--it's a nightmare I wouldn't wish on anyone--but she went a little overboard in her search for the truth and you almost dislike her in some parts. After she found out that the thief was actually a close friend, she felt betrayed and becomes a bit obsessive in her search for her ex-friend's motivation by putting her feet in the thief's shoes to figure it out. With a few white lies, the line between right and wrong blurred and Alice unthinkingly hurt a few people herself. I liked that there was nothing that was black and white, easily said that one is right or wrong--Alice wasn't all good but you sympathize with her anyway and the thief wasn't all bad in her way.
The secondary characters were excellent in this book. Alice's friends were all interesting in their own way and I enjoyed the side plots involving each of them. I especially enjoyed scenes with Alice's childlike stepsister Flora and watching her character develop and their sister relationship progress for the better. I delighted in the varied setting which also kept the story interesting--the author takes us to many places from their bustle of daytime to their glittery club nightlife scene. The pacing dragged at times especially in the middle when I kept wanting the action to pick up or for something interesting happens and the book did start off slow but on the whole I thought
The Liberation of Alice Love
was a fantastic, entertaining read and author did well creating an interesting, three-dimensional character in Alice.
4 out of 5 stars