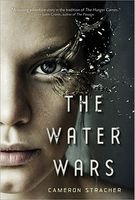 Hard Cover: 240 pages
Publisher: Sourcebooks Fire
Release Date: January 1, 2011
ISBN:
9781402243691
Source of my copy: publisher
Synopsis (from

Goodreads

)


Vera and her brother, Will, live in the shadow of the Great Panic, in a country that has collapsed from environmental catastrophe. Water is hoarded by governments, rivers are dammed, and clouds are sucked from the sky. But then Vera befriends Kai, who seems to have limitless access to fresh water. When Kai suddenly disappears, Vera and Will set off on a dangerous journey in search of him-pursued by pirates, a paramilitary group, and greedy corporations. Timely and eerily familiar, acclaimed author Cameron Stracher makes a stunning YA debut that's impossible to forget.
Leslie's Review
:
***Warning: May include spoilers***
I was pretty excited to read this book because of its cool cover, then I got iffy about reading it because of the mixed reviews. But when I finally started reading it, it turned out to be pretty good. The plot line was actually interesting. I liked how the author set it in the future and besides fantastical technology, there is a worldwide drought and anyone and everyone will do anything for a glass of water. I thought that was such a unique and even more realistic futuristic setting than most dystopian books. The setting added to the excitement and vividness of the plot that whenever I stopped reading, it took me awhile to convince myself there is no drought. However, I thought maybe the author tried a little too hard to keep the plot exciting at some parts that it felt forced and didn't flow as well as it should.
The characters in this book were bit of an issue for me, though. There were so many plane crashes, bullets and wounds the main characters had to live through that I found myself wondering if anybody could really live through all that. I know it's fiction but for most of the book I couldn't believe these people were humans. Still, I admired them for all of their strength and courage, most especially Vera and her older brother Will. My favorite aspect of the book was Vera and Kai's relationship. Even though they weren't together for most of the book, Vera had to go through so much violence and physical hurt just to save Kai--I just found that romantic and I thought it was cool how it's the girl doing the saving and not the guy.
As for the writing, it's not a very strenuous book to read and can be enjoyed in a few hours. Overall, I thought this book was an okay read--I didn't have many problems with it. If you're into a dystopian that could plausibly happen in the future complete with courageous characters off on a thrilling adventure to save a friend you may like
The Water Wars
.
3 out of 5 stars