On the spotlight today is...
We have the pleasure of having author

Dee Davis

guest post on our blog today as part of her blog tour for her newest release DESPEARATE DEEDS (book 3 in the fantastic A-Tac series). We asked her to blog about this question:



"If you're planning a dinner party and you can invite the following: 1 celebrity, 1 character from your book, 2 writers (one dead & one alive), and 1 musician. Who would they be and would they get along?"



Take it away Dee...
Great question and one I think I would be tempted to answer a dozen or more different ways. But we'll go with my first perceptions, starting with a character from my book. That one is easy for me. Although I'm quite fond of both Tyler and Owen (the hero and heroine in Desperate Deeds), I'd ask their boss Avery Solomon to dinner. He's by far and away my favorite member of A-Tac (although I do love them all…even the bad ones). There's something so strong about him. Always there, always loyal. And yet somehow haunted as well. He has a past. A love he's lost and can never regain. He actually wears a ring on his little finger—it belonged to his wife. But that's another story.
Let's see, a celebrity. I'd have to say Ellen DeGeneres. She's kind, she's funny, and she'd make a wonderful addition to any dinner party, I suspect. Plus, she's very intelligent which means she'd be able to hold her own with my other guests.
Next up we need two writers. One living, one dead. This one is harder because there are a lot of authors out there I'd like to meet. But I think I'll pick Michael Crichton for my "dead" author. If what I've read is true, he was an extremely bright man. His books certainly reflect that fact. I suspect also that he was a man with opinions. Which always make a dinner party more fun. As to a living writer, I'm tempted to ask for someone controversial, just to stir the pot, but because I want my party to be successful, I'll invite one of my best friends, author Julie Kenner. Also extremely intelligent, she's got a great sense of humor, and always makes people feel comfortable. I can see her now with Ellen on her left and Avery on her right.
And that leaves me to choose a musician. This one is the hardest for me. Not because I don't love music but because I love it so much. There are literally thousands of musicians I'd love to meet. But because a girl can never be surrounded by too many handsome men, and because his songs make me melt. I'll invite Harry Connick, Jr. Like my other guests, he's intelligent, funny, and knows a great deal about his craft. All of which will only add to the dinner conversation.
How would they get along? Well, it's my party, and my job as hostess is to make sure everyone has a good time. So while I'd expect the wine to flow, the food to be delicious and the conversation to be lively, I'd also expect everyone to behave. Which means that I'd have to be on my toes. But wouldn't it be fun—a dinner party with Michael Crichton, Avery Solomon, Ellen DeGeneres, Julie Kenner, Harry Connick, Jr. and me? Hmmm, I think I'll serve tiramisu for dessert.
Thank you so much for stopping by, Dee, and answering our questions! For more on Dee Davis, visit her on
Twitter
,
Facebook
and her
website
.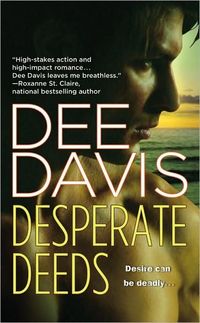 As the demolitions expert for A-Tac, a black-ops CIA unit masquerading as Ivy League faculty, Tyler Hanson has two great loves: literature and explosives. She lives by the motto "Duty First" and doesn't have time for personal attachments . . . until a steamy one-night stand turns into a professional partnership.
BURNED BY BETRAYAL
When Tyler meets Owen Wakefield, a handsome British operative, she seduces him with no intention of ever seeing him again. But then the sexy Brit is brought into A-Tac, and despite Tyler's efforts to keep her distance, she finds herself falling for him. Trusting him.
Owen seems too good to be true - and he is. He's hiding his true motives and identity, and no matter how he feels about Tyler, he can't keep her secrets. One of A-Tac's members has turned traitor and helped terrorists to hijack a shipment of nuclear weapons. As witnesses start dying and evidence starts disappearing, Owen and Tyler must race to find the mole - and prevent a final, cataclysmic act of destruction.
Do you want to win your very own copy of
Desperate Deeds
?
Thanks to Anna and
Hachette
, I have 3 copies to give away.
For a chance to win fill out the form:
Rules & Disclaimers
:
VERY IMPORTANT! Please read before entering!
1. Only residents of the U.S. or Canada are eligible to win. No P.O. Boxes.
2. This giveaway will end on
September 4
and the winners will be selected using random.org.
3. This giveaway is being sponsored by
Hachette Book Group
and NOT Michelle and Leslie's Book Picks. If you win, you'll receive your book directly from Hachette. We are in NO way for responsible for prizes that are not honored by the sponsor, dispersed in a timely manner, stolen, lost and/or damaged during transit.
4. See "
Special Giveaway Policy
" for complete rules and disclaimers.
Thanks for entering and good luck!