On the spotlight today is
Spider's Bite
by Jennifer Estep...
Author's Bio:

(taken from the author's website)

By night, Jennifer Estep is an author, prowling the streets of her imagination in search of her next fantasy idea.

Jennifer writes the Elemental Assassin urban fantasy series. The books focus on Gin Blanco, an assassin codenamed the Spider who can control the elements of Ice and Stone. When she's not busy killing people and righting wrongs, Gin runs a barbecue restaurant called the Pork Pit in the fictional southern metropolis of Ashland. The city is also home to giants, dwarves, vampires, and elementals – Air, Fire, Ice, and Stone.

Jennifer is also the author of the Bigtime paranormal romance series for Berkley. The Bigtime books feature sexy superheroes, evil ubervillains, and smart, sassy gals looking for love. Titles in the series are Karma Girl (2007), Hot Mama (2007), and Jinx (2008).

By day, Jennifer is an award-winning features page designer for a daily newspaper with a wide range of media and journalism experience. She's also a certifiable fangirl and an authority on fantasy literature and culture. Jennifer is a member of Romance Writers of America, Science Fiction and Fantasy Writers of America, and other writing groups.

Jennifer's books have been featured in Cosmopolitan, Entertainment Weekly, Southern Living, and a variety of other publications.


You can also find Jennifer on Facebook and on the Simon & Schuster site.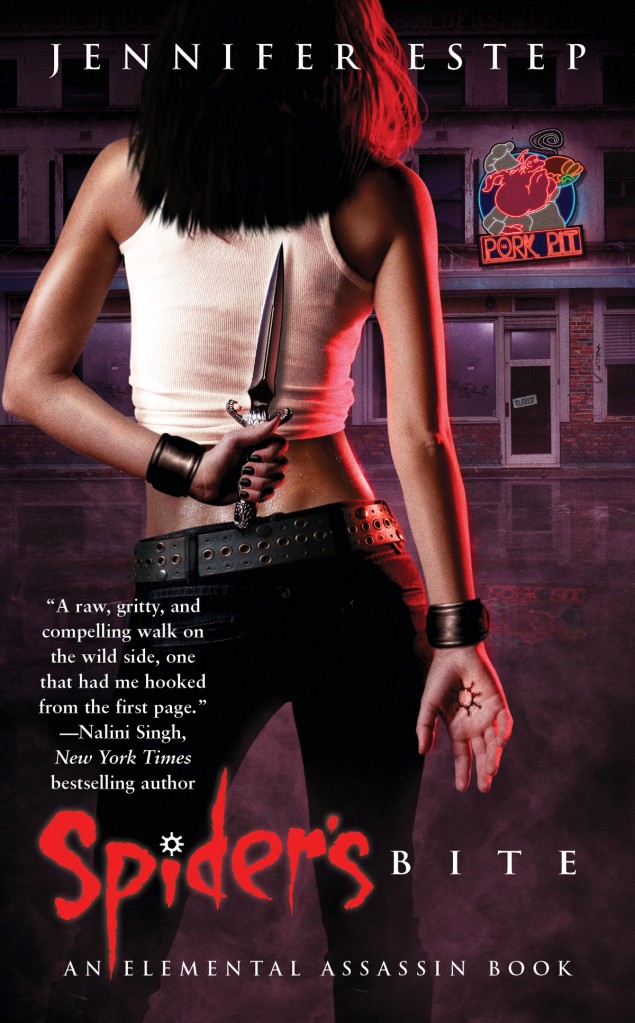 Paperback: 432 pages
Publisher: Pocket
Language: English
ISBN 10: 1439147973
ISBN 13: 9781439147979
Cover Image from Pocket Books/Simon & Schuster
Source of my copy: Simon & Schuster
Synopsis
My name is Gin, and I kill people.

They call me the Spider. I'm the most feared assassin in the South -- when I'm not busy at the Pork Pit cooking up the best barbecue in Ashland. As a Stone elemental, I can hear everything from the whispers of the gravel beneath my feet to the vibrations of the soaring Appalachian Mountains above me. My Ice magic also comes in handy for making the occasional knife. But I don't use my powers on the job unless I absolutely have to. Call it professional pride.

Now that a ruthless Air elemental has double-crossed me and killed my handler, I'm out for revenge. And I'll exterminate anyone who gets in my way -- good or bad. I may look hot, but I'm still one of the bad guys. Which is why I'm in trouble, since irresistibly rugged Detective Donovan Caine has agreed to help me. The last thing this coldhearted killer needs when I'm battling a magic more powerful than my own is a sexy distraction...especially when Donovan wants me dead just as much as the enemy.
Michelle's Review:
I started reading this book unsure whether I'd like it and if I can even finish it. I had judged the cover (which is wrong by the way because Gin's hair was blond in most of the book), read the blurb and found it not very appealing. But, man oh man, was I ever
wrong
! I loved this book and I have found a new addicting series to obsess about. I am going to be counting down the days until the next book comes out for sure!
This uncompromising urban fantasy is very dark and violent. It is very well-written with memorable characters and the world building in this book is great. Set in the city of Ashland where humans, vampires, giants, dwarfs and elementals all co-exist--magic does not guarantee you an easy life and many magical and non-magical alike have fallen on hard times and the city is overrun by poverty, corruption, greed and violence.
Spider's Bite
is the first book in Ms. Estep's new Elemental Assassin series, which features the kick-ass heroine assassin Gin Blanco (aka the Spider). Orphaned after a fire elemental killed her family, she was taken in by Fletcher Lane, the owner of the restaurant Pork Pitt, who trained her to become the deadliest assassin in the city of Ashland. When she was double-crossed on a job and Fletcher was tortured and killed in the process, she goes out to avenge his death as well as discover who dared to play her false. Gin is a Stone elemental with a little Ice magic as well. While she doesn't necessarily like to kill, she'll do it for the job and takes pride in the fact that she does it very well without the aid of her magical abilities. She kills for a living, but she has her standards and very loyal to those she cares for. I also like that the author gave her little quirks--she's a great cook and likes working at the Pork Pitt and likes to take random fun classes at the community college. Gin is a flawed character but a very likable one and I like her voice (the story is told in first person).
In addition to a great lead you will root for, the book also features great supporting characters. We have Finn who was Fletcher's son and a banker. He is like a brother to Gin and they have great sibling-like banter. Then there is Detective Donovan Caine, one of the last honest cops in the city and Gin's love interest. In normal circumstances, Caine would've prosecuted Gin for killing his partner but was forced to work with Gin and Finn to catch the psychotic elemental--there is great sexual tension between the two!
My only gripe with this book, which annoyed me throughout, was the author's use of the phrase "my gray eyes" every time Gin's eyes were mentioned all throughout the book. Maybe this is just me personally, but when an author tack on a descriptor or keep mentioning something over and over again, I want to scream "Yes, I get it! So and so is/has ___" This is minor though and doesn't take away for the story. Anyway, those in the mood for a fast-paced, no holds barred urban fantasy will love this book. I give it
5 stars out of 5
(see more about our ratings
here
). This book is great start to the series and the next book,
Web of Lies
, can't come soon enough!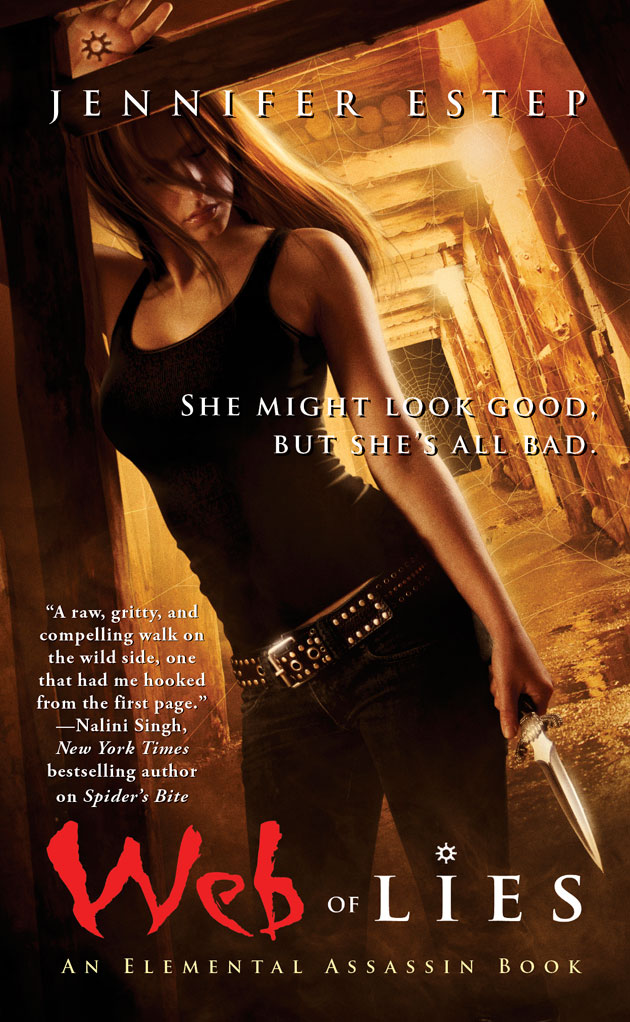 Book 2 in the series! It comes out on May 25, 2010.










**Disclaimer: I received this book free of charge in exchange for an honest review. My review was based on MY own experiences with the book and only share my honest, unbiased opinions. PLEASE use this blog only as a source and not the definite answer to your inquiries. Any items I receive "in kind" will never be sold. They will either be kept by me, donated to the Hawaii Public Library or given away on contests on this blog.**