Why I want to read them:

For a while now I've been seeing the button that says
Proud Member Bones is mine club with a couple kissing. At first I was thought, Dr. Temperance 'Bones' Brennan from the show? Because the woman on the button kinda looks like Brennan from
Bones
. Then, I "walked in" on a twitter conversation between some of the people I'm following and they were discussing a character called Bones from Jeaniene Frost's Night Huntress series and everything clicked. Although what finally pushed me into coveting this series was a tag line I read today on a blog (sorry, I forgot which one) that says "Bones can chapter 32 me anytime." Heh? What happened in chapter 32? And what's all the fuss about this Bones character? I gotta read this series!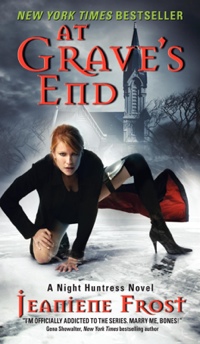 The first four books of the Night Huntress series shown above are already published and available for purchase.

"

Books I Covet

" is a new weekly or bi-weekly blog post series I am going to be doing here.
It will feature books I am very excited about reading and plan on buying/borrowing in the near future.
It is similar to the "Waiting On" meme hosted by Jill of Breaking the Spine. However, some of the books
may already be published and others may still be in pre-order. I will include the books' blurb, cover art, and/or release date if they're available.
Click on the WoW image on the left to join in!