Not exactly midnight here, but I'm here to confess my latest book sin.
Last week, I promised myself no more buying books for this year. I have a lot of books on my TBR pile and I don't need to be wasting money and buying more. Then, I came home from work today and as I'm wont to do, I checked my email. Guess what waiting for me there? ...A Borders email and not just any email, it's one that said they are giving their best customers (which apparently I am) $5 in bonus Borders Bucks. The catch was that it's for two days only: today and tomorrow. My rationalization for this order is that the $5 thing does not happen often and I also had a 30% coupon as well as their buy 5 books get 1 free promotion. I felt that I had to take advantage of it.
I broke my promise. I bought more books. Six books to be exact. I don't need six more books. What I should be doing is saving money for grad school. I ended up spending $33 and I know this is not going to make a difference in the larger scheme of things, but if I add that amount to the rest of the expenses I
have
to pay for it does. What the hell is wrong with me?!
Here's what I bought: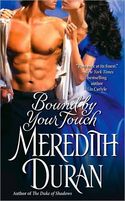 Images from Borders (click on pictures for exact link)
I ordered all three of Meredith Duran's published books because all three have gotten so many rave reviews on Amazon and I was very curious. The smart thing to do would have been to order one book to see if I like her writing, but I'm rarely smart when it comes to buying books.

I ordered
To Seduce a Sinner
because I've been hearing Elizabeth Hoyt's name for a while but I never did look into any of her books. Right now there's a promotional blog tour going on in blog land to promote
To Desire a Devil
and I want to read that too, but I'm keeping my fingers crossed I'm going to win a free copy from a giveaway I entered (hehehe). Anyway, I really like the plotline of
TSaS
(a shy heroine gets finally gets her chance with the hero whom she had admired for years) so I thought I'd give it a try. I believe
TSaS
is the second book in the Legend of the Four Soldiers series and I haven't read the first so I'm crossing my fingers I won't be completely lost and it can be read as a stand alone.
(Image from Borders)
Right now I am having second thoughts about ordering
Scandal in Spring
. The only reason why I ended up buying it was that I am reading
Devil in Winter
right now (totally loving it!) and I wanted to read the next book in the series. However, I don't own the first or the second book in Lisa Kleypas' Wallflower Series and when a book is part of a series I don't like owning just a random one or two without the others (another reason why I was hesitant to buy
TSaS
as well). I'm just weird that way.
(Image from Borders)
You might be wondering what the heck a classic like
To Kill a Mockingbird
is doing in a romance-filled order. This one is for my sister Leslie as her birthday is on the 27th of this month and this is the other half of my gift for her. I also got her a
Glee
CD (we're both complete
Glee
fanatics and watch the show religiously every Wednesday night... we were very sad the two weeks it wasn't on but it came back this week and everything is all right in the world again...
happy sigh
). All she had been reading lately are books filled with vampires, aliens, and more vampires and I figured she could use a change of genres. What better book than
TKaM
?
(Image from Borders)
So, there it is. I was feeling very guilty for breaking my promise and I had get it off my chest. I feel
slightly
better now.