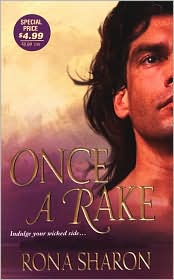 Image from Barnes & Noble


Synopsis (from amazon.com):


War had scarred the Earl of Ashby's face...and perhaps his soul. Before being wounded in the Napoleonic war and shunning society, the dashing lord had been a notorious rake. Now, Isabel Aubrey, a proper lady, dares to approach the masked, reclusive nobleman for a large donation to a worthy charity - and decides she must save him from his self-loathing. She begins to flirt. He responds. She invites him to a masquerade ball. He accepts and dazzles her with a kiss.But Isabel already has a fiance and despite her attraction to the earl she knows she must reject him. Yet no force on earth is greater than the passion that leads her into his bed; nothing she has ever experienced is more exciting and erotic. Now he asks her to stay with him although it will mean her ruin. Isabel must not say yes - and the smitten earl cannot let her say no. To win her body and her heart, he initiates an outrageous scheme that only a rake would devise - and no woman can resist.
I've never read anything by this author and I thought I'd give her a try because the book was only $4.99 and I had a Borders coupon. I don't know what to say about this book. Yes, it was well-written but I'll only give it
2 stars
. I took forever reading this book because once I put it down I wasn't very eager to pick it up and read it again. Maybe it was the fact that it was too long (the paperback was 448 pages) and I felt it could have been at least a hundred-page shorter. Maybe it was just me, but there was sort of an "ick factor" in the 13 year difference in age between the hero and the heroine (the first kiss between the characters happened when he was 28 and she was 15--two of my cousins are 15 and it's just gross picturing them kissing a 28-year-old man).
The book started out okay and I breezed through the first few chapters, but after a while it just dragged. The whole middle of the book pretty much followed this pattern: heroine is upset with the hero, he explains or does something to rectify his action, she forgave him and they kiss... then it happens all over again except this time the hero is upset with the heroine. I also didn't feel much chemistry between the two characters.
Overall, an okay read. It's not my favorite but it's not bad. You should pick it up if you happen upon it at a used books sale as it's worth a read.
***I got lazy and just copied and pasted the synopsis from amazon.com. I don't know if that's allowed but I did cite it and provided a link directly to the amazon.com page where I got the synopsis. Please let me know if I'm breaking a law by doing this and

I'll take it off the post immediately
. Thank you!***



**Disclaimer: I bought this book with my own money.
My review was based on MY own experiences with the book and only share my honest, unbiased opinions. I am NOT promoting or discouraging anyone from purchasing this book--whether I liked or disliked it. PLEASE use this blog only as a source and not the definite answer to your inquiries.**